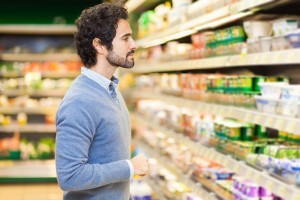 Our lifestyles have changed considerably, our habits have been altered and we don't have enough fibre in our daily diet. But don't worry! We just need to find additional sources of fibre to rebalance our diet and stay healthy.
Actilight® Fibre is a fibre with extraordinary benefits that is found in many food products available in the supermarket.
What is Actilight® Fibre?
Actilight® Fibre is an oligofructose, a fibre from sugar beet, a natural vegetable. That much, we know!
More generally, oligofructose (also known as fructo-oligosaccharides) is found naturally in foods like wheat, barley, rye, asparagus, bananas, artichokes, garlic, onions and many others. Actilight® Fibre, is… a fibre concentrate! One teaspoon of Actilight® is equivalent to 10 bananas, 700 g of rye or 40 cloves of garlic!
The most active fibre
It's a naturally occurring fibre with prebiotic qualities. What does that mean? It means it nourishes the good bacteria in our intestine, like bifidobacteria. It's the most active fibre because it has an effect on our flora from very low doses (2.5 g/day). It's an energy concentrate for intestinal health!
It improves digestive transit and fights constipation, reducing intestinal discomfort and stimulating the body's natural defences. In other words, it helps you feel good and healthy. Its efficacy is clinically proven.
Like all fibre, Actilight® is low in calories. It contains half the calories of sugar. Actilight® Fibre is good for you, but does it taste good? Actilight® Fibre has a slightly sweet taste that is natural and pleasant. Compared to insoluble fibre like wheat bran and oats, Actilight® Fibre is a more flavoursome ingredient that better maintains the texture of products that contain it.
At the heart of our daily diet
Actilight® Fibre is a water-soluble powder. You probably weren't aware, but we consume Actilight® Fibre in many everyday products: it is a healthy and beneficial ingredient, chosen for its taste and nutritional qualities. Actilight® Fibre is found in infant formula, yogurts, ice creams and sorbets, biscuits, cereal bars and breakfast cereals, smoothies, nutritional supplements… and it's already doing us good!
You will see Actilight® Fibre labelled as "oligofructose" or "fructo-oligosaccharides" (abbreviation "FOS"). In the nutritional information table, Actilight® Fibre appears in the fibre category.